Antique Globe Mercator 1541 (reproduction)



Free Shipping in Europe
In Stock
Geodus price:
148.00 €
(Free EU Shipping)
In Stock
Details
Cartography
Delivery
More Infos
Reviews
Brand:
AM
( Ref: GL023F )
Diameter globe:
18 cm (7 in.)
Overall height:
30 cm (11 in.)
Overall width:
26.5 cm (10.5 in.)
Weight:
no information
Base:
precious wood (mahagony patinated )
Meridian:
bronze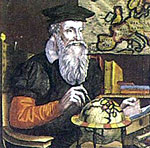 Mercator was the most famous mapmaker of the 16th century, the Age of Discovery (Magellan, Jacques Cartier, Francis Drake,...).
His world and celestial globes were considered as reference globes by Charles V, Holy Roman Emperor and Francis I of France.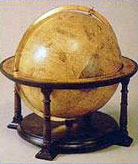 Reproduction of a globe realized by Mercator in 1541 and dedicated to Nicolas Perrenot de Granvelle, chancellor of Charles V (1500-1558), Holy Roman Emperor.
An original specimen of this globe is carefully guarded in the Stadtmuseum of Duisburg, town where Mercator lived from 1552.
The wood has a french finishing (repetitive manual polishing with very soft pads) who gives him a brilliant aspect, deep colors and a very soft touch.

Attention to detail, historical interest, authentic materials characterize this very fine globe made by AM, world-renowned for its museum quality reproductions.

This globe exists in: latin



Gerardus Mercator (1512 - 1594)



Mathematician and geographer,
inventor of the Mercator projection (cylindrical map projection).

Publishes in 1569 the 18 sheets of his atlas

Mercator projection

.

The map of this antique globe is a faithful reproduction of an original carefully guarded in the historical museum of Duisburg (Germany), town where he lived from 1552.
She is hand adjusted.

Using printed copies of the original globe gores, AM manufactured true replicas; historical documents representing the beauty and prestige of ancient cartography and exploration.

The known world in the 16th century

Known world in the Middle Ages




Known world at the end of the 16th century
Delivery date of the Antique Globe Mercator 1541 (reproduction) *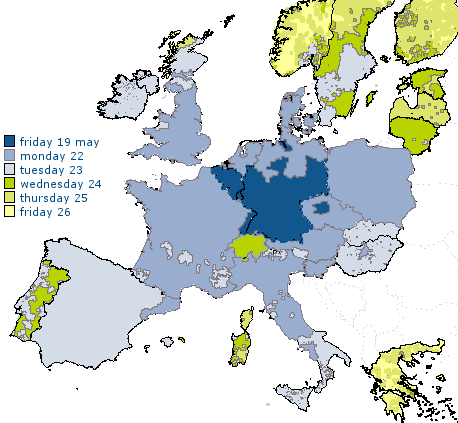 * indicative date for an order validated today.
Guarantees for the Antique Globe Mercator 1541 (reproduction)

Satisfaction Guarantee

Direct Guarantee: 1 year




AM is a Dutch company created in 1968 by Haring Piebenga.

Its focus is to create a comprehensive collection of historical objects and fine art reproductions in museum quality.
AM proposes reproductions that appeal to a need for nostalgia, intrigue, and beauty.

All its products are designed in house, by its own design team. Originals are pursued at auction and reproduced with an AM twist.

For AM, 38 years later, it is always very personal. We develop our products because we like them and we believe that others will also like them… And our Cabinet of Curiosities continues growing...
Customer reviews of the GL023F
(ordered by decreasing date)

Average of
4,2
based on 62 reviews.
Details
Base:
precious wood
Meridian:
bronze
Mercator was the most famous mapmaker of the 16th century, the Age of Discovery (Magellan, Jacques Cartier, Francis Drake,...). ...


4,2 on 5
(62 reviews)
3 last reviews

Very well made. by Michael F. from NG9 1PA Nottingham

Beautiful historic globe, made with care and expertise to provide a fascinating curio and new family heirloom on the birth of our first granddaughter, as a novel gift for her parents. by Su P. from RH2 8HJ Surrey

Fantastic by Sarah R. from OX1 4SX Oxford

We also recommend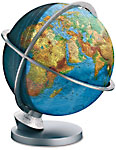 Day/Night Globe
Diameter: 30 cm
Base in plastic
Meridian in fibreglass
Geodus Price:
149.95 €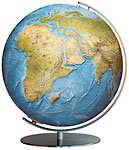 Duorama Globe
Diameter: 34 cm
Base in metal
Meridian in metal
Geodus Price:
248.00 €
---

All orders are payable in €. Prices displayed in an other currency are only approximate and not contractual. They are based on the exchange rate of

.
Mouse-over displayed price shows the euro contractual price.