- Free shipping over 59€
- BEST PRICE guarantee !
- Satisfaction guarantee
- 30 000 items in stock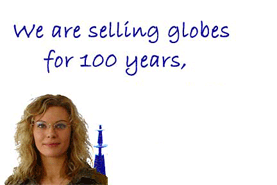 The World Globe Families :

A world globe consists of 1 or 2 maps, applied on a sphere supported by a stand.
An illuminated globe allows you to display 2 different maps (also called dual-map) whether it is turned on or off.
It is a warm and colour-rich light source.
We distinguish 2 globe types, desk globe and floor globe.
We also consider 3 map styles:
blue oceans
yellow-earth oceans : geopolitical up-to-date globes with parchment-coloured oceans, edge-coloured countries, a wind rose, sea serpents, a frigate, ...like old globes
design: the oceans may be black, transparent, ... All the countries are in a same colour.
The left menu allows you to display directly a globe style (eg: only design style globes).
A map may represent the countries (political map), the mountains and plains (physical map) or the forests and the deserts (ground-vegetation map).
Most of our globes are available in a variety of languages; you can make your choice on the item page.
A globe with a diameter of 12" (30cm) has an unrolled map of about 39" (1 m) at equator.
Most of our globes are available in a variety of stands; wood, imported wood, metal, crystal.
You can select it on the item page.
All of our globes are high quality products, that we guarantee directly.
Columbus Globes are all made in Germany.
Discounts are possible for large orders. Please contact us.
---