Free Shipping in Europe
In Stock
Geodus price:
149.95 €
(Free EU Shipping)
English version, in Stock
Details
Cartography
Delivery
More Infos
Reviews
Brand:
Columbus
( Ref: 423052-9 )
Illuminated globe:
yes (internal cable)
Diameter sphere:
30 cm (12 in.)
Overall height:
40 cm (16 in.)
Base in:
plastic (silver colour)
Meridian in:
fibreglass (silver colour)
Sphere in:
Plexiglas Heavy Duty
Lacquered Sphere:
yes (multilayer, shiny)







The "Planet Erde" globe makes it possible to visualize a multitude of astronomical concepts;
-elliptic orbit around the sun,
-earth rotation on its axis,
-duration of the day,
-solstitial points ...

The lit globe illustrates the concept of day, the 3 zones of twilight, ...
A luminous point indicates the sub-solar zone, i.e. the place where the sun does not create any shade at midday.
All these concepts can be observed for a given day-hour-place by an adjustment of the dial at the foot of the globe.

The sphere is shipped complete with its instruction manual of 44 pages (in english).

View instruction manual of Planet Erde (PDF of 2.25 Mo)


This world globe exists in:

english

deutsch français



More Images

The Duplex map.



The

political *

map (switched off) shows the countries in different colours.
The

physical *

map (switched on) shows the mountains, the valleys, the plains, the sea-depths and streams in different colours. The terrestrial relief is rendered by a play of shadows.

We don't just print our globes; we strive to create an incredibly deep, flawless shine. It all starts in our state-of-the-art 'clean printing room', where our craftsmen work just with superior acrylic sheets. Bringing in all kind of papers is strictly forbidden, because it would bring in fine paper dust particles which could later be attracted in the printing process. Printing up to 17 successive layers of colors, there's a curing process between each layer, along with an inspection and careful cleaning. Once the printing is complete, a high gloss clear coat layer is applied over the entire map, than it is sent back for inspection to our cartographic department.

Unmistakable COLUMBUS cartography: Splendour of Elegance.
Delivery date of the Day/Night Globe *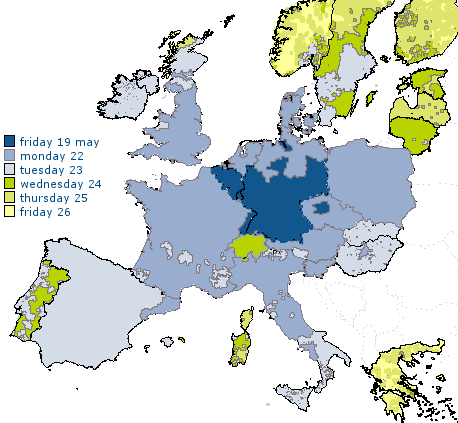 * indicative date for an order validated today.
Guarantees for the Day/Night Globe

Satisfaction Guarantee

Direct Guarantee: 1 year






Established 1909 in Germany, COLUMBUS is the oldest globe manufacturer in the World.

COLUMBUS quickly became and continue to be the World's best-selling line of luxury globes ( Chaplin chose in 1940 the Columbus globe "Die Erde" for his world famous film).
Popular features such as internal illumination (1948), dual-mapping (1955), the Day and Night Globe (1972) were all innovations introduced by Columbus globes.

While being innovators and leaders, Columbus is also focused on preservation of traditional globe manufacturing processes such as the exclusive mouth-blowing of crystal spheres and the hand laminating of cartography.

Customer reviews of the 423052-9
(ordered by decreasing date)

Average of
4,0
based on 246 reviews.
Details
Base:
plastic
Meridian:
fibreglass
The "Planet Erde" globe makes it possible to visualize a multitude of astronomical concepts;
-elliptic orbit around the sun,
-earth rotation on its axis,
-duration ...


4,0 on 5
(246 reviews)
2 last reviews

My dad is very happy with the globe. Maybe you should consider providing the instruction booklet in more languages. by Javier V. from 03201 Elx

... by Stian S. from 7041 Trondheim
We also recommend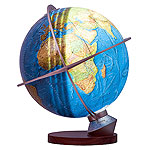 Day/Night Globe
Diameter: 34 cm
Base in solid wood
Meridian in fibreglass
Geodus Price:
298.00 €
---

All orders are payable in €. Prices displayed in an other currency are only approximate and not contractual. They are based on the exchange rate of

.
Mouse-over displayed price shows the euro contractual price.