Free Shipping in Europe
In Stock
Geodus price:
229.00 €
(Free EU Shipping)
In Stock
Details
Cartography
Delivery
More Infos
Reviews
Brand:
Geo
( Ref: wb24083 )
Illuminated globe:
yes (internal cable)
Diameter sphere:
40 cm (16 in.)
Overall height:
50 cm (20 in.)
Base in:
metal (steel)
Meridian in:
metal (steel)
Sphere in:
Plexiglas Heavy Duty
Lacquered Sphere:
yes (multilayer, shiny)
| | | |
| --- | --- | --- |
| | | The map is hand-adjusted and lacquered on several coats. |

This world globe exists in:

english



More Images

The Duo map.



The

political *

map (switched off) shows the various countries of the earth in many matched colours.
The

physical *

map (switched on) shows the mountains, the plates, the plains and sea-beds.

The impression of relief shown by the illuminated map is really astonishing.

We don't just print our globes; we strive to create an incredibly deep, flawless shine. It all starts in our state-of-the-art 'clean printing room', where our craftsmen work just with superior acrylic sheets. Bringing in all kind of papers is strictly forbidden, because it would bring in fine paper dust particles which could later be attracted in the printing process. Printing up to 24 successive layers of colors, there's a curing process between each layer, along with an inspection and careful cleaning. Once the printing is complete, a high gloss clear coat layer is applied over the entire map, than it is sent back for inspection to our cartographic department.

Unmistakable COLUMBUS cartography: Splendour of Elegance.
Delivery date of the Geo-Globe Globe *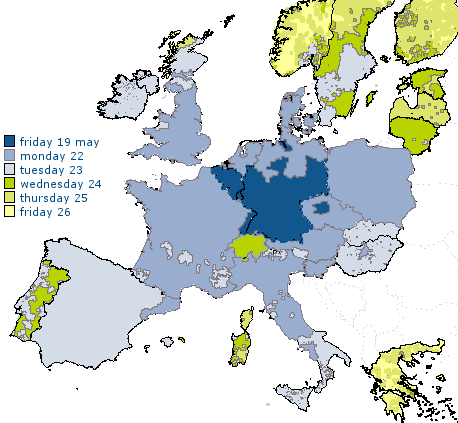 * indicative date for an order validated today.
Guarantees for the Geo-Globe Globe

Satisfaction Guarantee

Direct Guarantee: 1 year


| | |
| --- | --- |
| | Editors of the GEO review. |
Customer reviews of the wb24083
(ordered by decreasing date)

Average of
4,5
based on 40 reviews.

4,5 on 5
(40 reviews)
2 last reviews

Easier to look at than an atlas and puts relationship of countries into better perspective. by John S. from SL7 3NX Buckinghamshire

The globe is beautiful, and exactely as described on the website by Bart L. from 2311 CG Leiden
We also recommend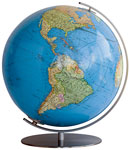 Duo Globe
Diameter: 40 cm
Base in metal
Meridian in metal
Geodus Price:
348.00 €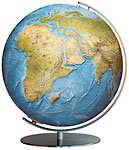 Duorama Globe
Diameter: 34 cm
Base in metal
Meridian in metal
Geodus Price:
248.00 €
---

All orders are payable in €. Prices displayed in an other currency are only approximate and not contractual. They are based on the exchange rate of

.
Mouse-over displayed price shows the euro contractual price.