- Free shipping over 59€
- BEST PRICE guarantee !
- Satisfied or money back
- Amazon logistics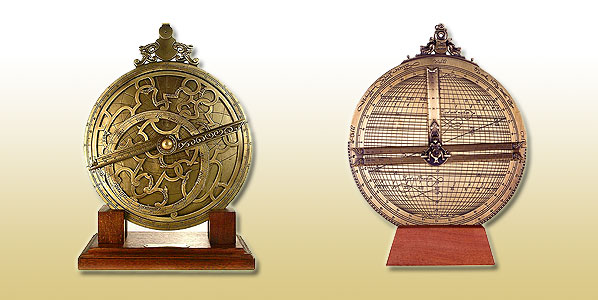 Our Astrolabes :

An astrolabe is a very ancient astronomical computer for solving problems relating to time (what time is it ?) and the position of the Sun and stars in the sky.
Astrolabes are used to show how the sky looks at a specific place (latitude) at a given time.
Typical uses of the astrolabe include finding the time during the day or night, finding the time of a celestial event such as sunrise or sunset and as a handy reference of celestial positions.
All our astrolabes are fully functionnal;
their sky chart is the one of the 21st century.
Each Astrolabe is calculated and constructed for a specific range of latitudes;
this range is specified in the product page.
All our Astrolabes are made of lacquered metal.
The two large Astrolabes are heavy and weigh around 2kg (4.4 lb).
Our astrolabes are solid products, crafted in small workshops in Spain.
We have outsourced our entire logistics (multi-site European storage, packaging, and delivery) to Amazon Logistics (one of the world's leaders).
Attention to detail, historical interest, beauty of forms characterize thess very fine Astrolabes, shipped complete with a hardwood display stand and a user guide.
---