Free Shipping in Europe
In Stock
Geodus price:
229.00 €
(Free EU Shipping)
In Stock
Details
Delivery
More Infos
Reviews
Diameter:
20 cm (8 in.)
Overall height:
25 cm (10 in.)
Weight:
2.00 kg (4.4 lb)
Materials:
metal
Modern Astrolabe (large size)
.
Reproduction of an astrolabe realized by Arsenius in 1602.
An original specimen of this astrolabe is carefully guarded in the Museum of the History of Science in Oxford.
This astrolabe is shipped with 2 additional Plates (45° and 50°).
Function
.
An astrolabe is a very ancient astronomical computer for solving problems relating to time (what time is it ?) and the position of the Sun and stars in the sky.
Astrolabes are used to show how the sky looks at a specific place at a given time.
This is done by drawing the sky on the face of the astrolabe
To use an astrolabe, you adjust the moveable components to a specific date and time. Once set, much of the sky, both visible and invisible, is represented on the face of the instrument.
Typical uses of the astrolabe include finding the time during the day or night, finding the time of a celestial event such as sunrise or sunset and as a handy reference of celestial positions.
The typical astrolabe was not a navigational instrument although an instrument called the mariner's astrolabe was widely used in the Renaissance.
History
.
The history of the astrolabe begins more than two thousand years ago.
The principles of the astrolabe projection (stereographic projection) were known before 150 B.C., and true astrolabes were made before A.D. 400.
The astrolabe was highly developed in the Islamic world by 800 and was introduced to Europe from Islamic Spain (al-Andalus) in the early 12th century.
It was the most popular astronomical instrument until about 1650, when it was replaced by more specialized and accurate instruments.
Accuracy
.
The sky map of this astrolabe has been updated from the one of the 16th century.
It's accuracy is:

for the latitudes 39° to 42° (41° Mater), 43° to 47° (45° Plate), 48° to 52° (50° Plate)

for the North latitudes out of this interval.
Attention to detail, historical interest, beauty of forms characterize this very fine Astrolabe, shipped complete with a hardwood display stand and a user guide
(


)
.
N.B.: This is the replica astrolabe used in the TED video presentation from Tom Wujec.
Delivery date of the Modern Astrolabe (Large)
We have chosen Amazon Logistics to store and deliver our items.
The parcel packaging will be marked Amazon.

Delivery time depends on the country of destination and storage location (several in Europe).
It is around 3 to 5 days.
Amazon will communicate to you, by email, a precise deadline as soon as we have validated your order.
Shipping costs for Modern Astrolabe (Large)
Free shipping for following countries:
Metropolitan France, Germany, Spain, Italy, Denmark, Sweden, Finland, Belgium, Portugal, Ireland, Luxembourg, Netherlands, Austria, Bulgaria, Croatia, Cyprus, Czech Republic, Estonia, Greece, Hungary, Latvia, Lithuania, Malta, Poland, Romania, Slovakia, Slovenia.

Shipping is not possible for all other countries.
Complete TED video (9 minutes)
Introduction, description: different components, stereographic projection, main function: how to get time in 5 steps, other functions, history, conclusion.

View video


Video showing the different parts of an astrolabe (2 minutes)
Mater, Alidade, Plate, Altitude, Azimuth, Horizon, Zenith, Tropic and Equator, Rete, Ecliptic, Fixed Stars.

View video


Customer reviews of the A206
(ordered by decreasing date)

Average of
4,3
based on 53 reviews.
Details

Materials: metal

Modern Astrolabe (large size).




Reproduction of an astrolabe realized by Arsenius in 1602.
An original specimen of ...


4,3 on 5
(53 reviews)
3 last reviews

Presentation box was a nice surprise. The astrolabe was lovely at first sight. On further inspection I noticed the rete is a little warped relative to the madre edge - it stands just above the surface of the madre - and even every where else. The trono hinge joint seems too loose - the pins feels like its already worn - but maybe thats my misunderstanding. The instruction booklet is useless - that is to small to read and the pictures are too small to read. The instruction booklet could have been more explicit in the use and understanding of the astrolabe - and position of stars there in. This spoils an otherwise great astrolabe. by John M. from NN4 0RD Northampton

The Astrolbe is truly an exceptional replica, very happy. by Paul P. from Langenargen

The astrolabe we ordered (the Ancient Astrolabe) is now on display in our exhibit space. What a beautiful piece- one we will use and treasure for many years. Very sturdy and easy to handle. An excellent learning tool for adults and children alike. by Karin T. from L4R 4K8 Midland

We also recommend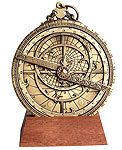 Modern Astrolabe (Medium size)
Diameter: 10 cm
Geodus Price:
139.00 €
---