Free Shipping in Europe
In Stock
Geodus price:
699.00 €
(Free EU Shipping)
English version, in Stock
Details
Cartography
Delivery
Audio/Video
More Infos
Reviews
Brand:
Columbus
( Ref: 214083 )
Illuminated globe:
yes (internal cable)
Audio/Video compatible:
yes
(See explanations)
Diameter sphere:
40 cm (16 in.)
Overall height:
50 cm (20 in.)
Base in:
metal (steel)
Meridian in:
metal (steel)
Sphere in:
crystal (mouth blown)
Lacquered Sphere:
yes (multilayer, shiny)




This globe is the result of a successful collaboration between designers, cartographers and glass-blowers.
The map is adjusted manually on a blown crystal sphere that is seamless and highly luminous.

Columbus is the only manufacturer in the world to produce those world-famous crystal globes.

This world globe exists in:

english

deutsch français



More Images

The Duorama map.



The

ground-vegetation *

map (switched off) shows the earth's surface with the rock-mountains, the forests, the cultivated zones, the savannas, the deserts and in white the polar areas or the glaciers. The relief impression of the mountains and sea-beds are really astonishing.
The

political *

map (switched on) shows the countries in various colours.

We don't just print our globes; we strive to create an incredibly deep, flawless shine. It all starts in our state-of-the-art 'clean printing room', where our craftsmen work just with superior acrylic sheets. Bringing in all kind of papers is strictly forbidden, because it would bring in fine paper dust particles which could later be attracted in the printing process. Printing up to 18 successive layers of colors, there's a curing process between each layer, along with an inspection and careful cleaning. Once the printing is complete, a high gloss clear coat layer is applied over the entire map, than it is sent back for inspection to our cartographic department.

This map offers a new vision of Earth, near to photographic mode. To reinforce its glare, the Duorama map is exclusively assembled on crystal spheres and hand adjusted.
Delivery date of the Duorama Globe *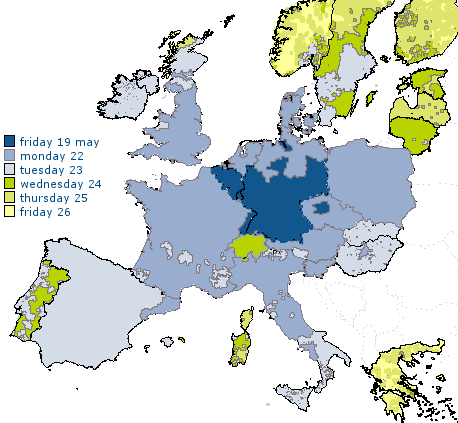 * indicative date for an order validated today.
This globe becomes an interactive talking globe if used with the Audio/Video pen.

Extensive information as
Country datas (population, life expectancy, ...),
Curiosities,
National anthems and even a
Quiz (around the world)
can be heared directly on the speaker of the Audio/Video pen, for each country of the world.

And if you have a smartphone or a tablet, you can watch touristic
Videos
for each country of the world.


You can purchase the Audio/Video pen from us (see right or here ), or elsewhere, or even not at all (a non talking world globe is also very nice and informative).
Guarantees for the Duorama Globe

Satisfaction Guarantee

Direct Guarantee: 1 year






Established 1909 in Germany, COLUMBUS is the oldest globe manufacturer in the World.

COLUMBUS quickly became and continue to be the World's best-selling line of luxury globes ( Chaplin chose in 1940 the Columbus globe "Die Erde" for his world famous film).
Popular features such as internal illumination (1948), dual-mapping (1955), the Day and Night Globe (1972) were all innovations introduced by Columbus globes.

While being innovators and leaders, Columbus is also focused on preservation of traditional globe manufacturing processes such as the exclusive mouth-blowing of crystal spheres and the hand laminating of cartography.

Customer reviews of the 214083
(ordered by decreasing date)

Average of
4,4
based on 32 reviews.
Details
Base:
metal
Meridian:
metal
Sphere:
crystal (mouth blown)
This globe is the result of a successful collaboration between designers, cartographers and glass-blowers.
The map is adjusted manually on a blown crystal sphere that ...


4,4 on 5
(32 reviews)
1 last reviews

It is a really nice globe but it came in french even though it was ordered as english by Bd M. from Erembodegem-aalst
We also recommend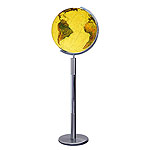 Royal Globe
Diameter: 40 cm
Base in metal
Meridian in metal
Geodus Price:
999.00 €
---

All orders are payable in €. Prices displayed in an other currency are only approximate and not contractual. They are based on the exchange rate of

.
Mouse-over displayed price shows the euro contractual price.