Free Shipping in Europe
In Stock
Geodus price:
338.00 €
(Free EU Shipping)
In Stock
Details
Delivery
More Infos
Reviews
Diameter:
20 cm (8 in.)
Overall height:
25 cm (10 in.)
Weight:
1.62 kg (3.6 lb)
Materials:
lacquered metal
Modern Astrolabe
(Large).
This new astrolabe has been crafted in the same spirit of the astrolabes created more than a thousand years ago, but with an up to date Star map.
Function
.
An astrolabe is a very ancient astronomical computer for solving problems relating to time (what time is it ?) and the position of the Sun and stars in the sky.
Astrolabes are used to show how the sky looks at a specific place at a given time.
This is done by drawing the sky on the face of the astrolabe
To use an astrolabe, you adjust the moveable components to a specific date and time. Once set, much of the sky, both visible and invisible, is represented on the face of the instrument.
Typical uses of the astrolabe include finding the time during the day or night, finding the time of a celestial event such as sunrise or sunset and as a handy reference of celestial positions.
The typical astrolabe was not a navigational instrument although an instrument called the mariner's astrolabe was widely used in the Renaissance.
History
.
The history of the astrolabe begins more than two thousand years ago.
The principles of the astrolabe projection (stereographic projection) were known before 150 B.C., and true astrolabes were made before A.D. 400.
The astrolabe was highly developed in the Islamic world by 800 and was introduced to Europe from Islamic Spain (al-Andalus) in the early 12th century.
It was the most popular astronomical instrument until about 1650, when it was replaced by more specialized and accurate instruments.
Accuracy
.
The sky map of this astrolabe is the one of the 21th century.
This astrolabe is
fully functional
.
It's accuracy is:

for the latitudes 39° to 42° (Chicago, New York, Madrid, Rome, Beijing),

for the North latitudes out of this interval.
Attention to detail, historical interest, beauty of forms characterize this very fine Astrolabe, shipped complete with a hardwood display stand and a user guide with ad hoc exercises
(



)
.
Delivery date of the Modern Astrolabe (Large) *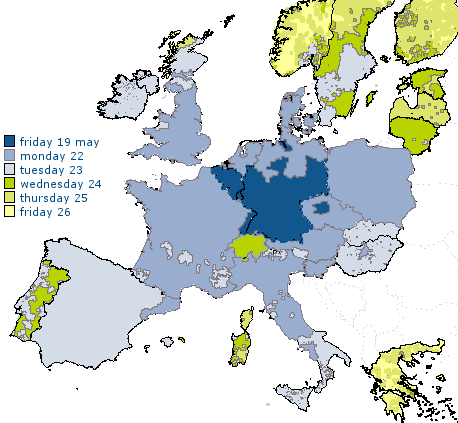 * indicative date for an order validated today.
Guarantees for the Modern Astrolabe (Large)

Satisfaction Guarantee

Direct Guarantee: 1 year


Complete TED video (9 minutes)
Introduction, description: different components, stereographic projection, main function: how to get time in 5 steps, other functions, history, conclusion.

View video


Video showing the different parts of an astrolabe (2 minutes)
Mater, Alidade, Plate, Altitude, Azimuth, Horizon, Zenith, Tropic and Equator, Rete, Ecliptic, Fixed Stars.

View video


Customer reviews of the H35
(ordered by decreasing date)

Average of
4,3
based on 13 reviews.

4,3 on 5
(13 reviews)
3 last reviews

Wanted a Astrolabium for a long time and now I finaly have one. It looks great. Onlu found the booklets a bit strangly printed but can see why. Just looks odd. by Ronald V. from 5501DK Veldhoven

This astrolabe is an excellent piece for any collector even if you are not interested in astronomy, and it is now a central piece in my collection. You should see it under a strong spotlight to fully appreciate it, add a brass chain and show it on a rotating base. A beautiful piece by Hemisferum. by Taki S. from M15 5JH Manchester

Beuautifully made detailed article, arrived safely, well packaged and I was kept informed of progress until it arrived on my doorstep. by George W. from NG23 5DG Newark
We also recommend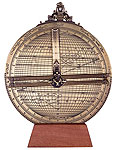 Universal Astrolabe de Rojas
Diameter: 20 cm
Geodus Price:
338.00 €
Geodus Price:
0.00 €
---

All orders are payable in €. Prices displayed in an other currency are only approximate and not contractual. They are based on the exchange rate of

.
Mouse-over displayed price shows the euro contractual price.